Subsea Distribution
UNITECH connectors reflect the industry's most advanced designs and standards; and proven to work for years in the harshest environments and under the heaviest loads.
UNITECH subsea connectors are designed for trouble-free life for up to 30 years and beyond. Manufactured with high-quality materials – including Inconel, titanium and Super Duplex stainless steel – UNITECH connectors set the standard for safety and operational uptime.
The same engineering standards and quality focus extend across the entire UNITECH product line, from control systems to high-pressure couplers. Can't see the product you need in our portfolio? It's only because no one has asked for it yet. You can be confident that UNITECH engineers can design & develop tailor made solutions adapted to your subsea requirements & applications.
UH500 Series Stab Connectors
High-pressure single bore connectors
Equipment rated up to 15K psi
Methanol, gas lift, chemical delivery and monitoring.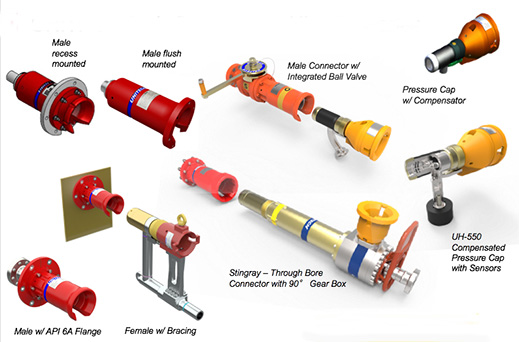 Go to UH500 Series Stab Connectors >>
MQC Stab Plates and Couplers
High pressure Multi Quick Couplers (MQC) Stab Plates with own couplers design
Equipment rated to 20, 000 psi
Several model available: Alpha, Bravo, Charlie, Delta.